Get Fit With Mitch!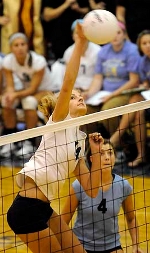 Niagara (NY) University's
Amanda Wilken on the kill
"My workouts with Mitch were always intense and fun. Without a doubt he helped me reach my personal goals of strength, flexibility, and endurance, all of which will help me to play volleyball at the college level."
"I have trained with Mitch for three years and he has helped me enormously. I am stronger and more flexible and my posture is better. Best of all, Mitch has helped me successfully manage a chronic low back problem so I have been able to play tennis, hike and enjoy other physical activity without restriction. I have never been a disciplined workout guy but working with Mitch is fun and I look forward to my training sessions."